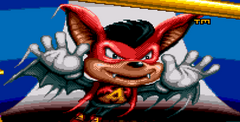 Aero the Acro-Bat 2
by SunSoft
Bacк for more in Part Two, it would appear that the wonderfully clever and evil Edgar Ektor managed to escape the finale of Part One, and is back with some more nasties for Aero to gak in this well-developed sequel.
Be sure to watch the story line cinema in the beginning of the game to understand the later cinemas. Watch for Zero the Kamikaze Squirrel, who now has his own titles!
THE GOOD
The graphics are nice, and the sound effects are top-notch. An improvement over the original.
THE BAD
Some of the levels have certain areas which become particularly annoying.
THE UGLY
The massive pile of hair on the floor that was rooted from your head in a moment of frustration.
People say:
8
Aero 2 is a good action game for the Genesis. It looks good and plays well. It may lack the variety that Zero the Kamikaze Squirrel has, but this one is still very decent. The control has been tweaked somewhat from the original game. The audio is easy to listen to and above average. If you've been looking for an action title on the Genesis, you might want to try checking out Aero 2. I enjoyed this one.
7
The Aero series has always been good, and this latest endeavor kept up that tradition. The game has lots of technique, loads of secret areas you wouldn't normally stumble into and best of all, the levels are extremely long with tons of smaller areas to explore. The Ector bonus game is nifty but can get downright brutal as you progress. The control is great, the music is decent and the game is just plain ol' fun to play!
8
Like the first game, I also like the second installment in the series. Aero The Acro-Bat 2 is one of the coolest video game characters to come along in a while, and his new techniques add to an already great game. The graphics are excellent and the sound is decent. Probably the best part is just going around the huge levels and just looking for hidden areas. This is a solid game to continue the saga.
8
I never really got into the first one, and I might go back and check it out a bit more. I liked Aero a bit more the second time around. The diving technique started to grow on me and the levels were fun to play. There are many secret areas with extra parts to explore. The graphics are good and the control is very responsive. Packed with fun game play and cute adversaries, this is a definite must-try.
X
Next game: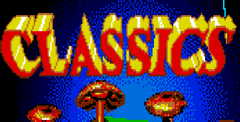 Download Sega Arcade Classics