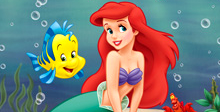 Disney's Ariel the Little Mermaid
by Blue Sky Productions
Disney's Ariel the Little Mermaid video:
Subscribe

Gamefabrique game channel
on YouTube.
Help either Ariel, the gleeful little mermaid, or Triton, her father, foil the evil Ursula, who has transformed everyone into small, green worm-like creatures, including the character you dont initially choose.
Rescuing requires you to simply swim into the unfortunate little victims as they hang about at fixed places in the watery world; while fending off and dodging enemies like eels, clams, sharks, and several other sea meanies. Friends like Flounder and Sebastian can also be summoned for a little helping hand.
Disney's Ariel: The Little Mermaid is just beautiful. The landscapes and elegant, the music gorgeous, and the fun you can have is through the roof.
2005-07-24 Ariel the Little Mermaid is a movie-based game.

X
Next game: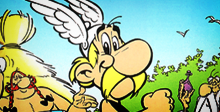 Download Asterix and the Great Rescue