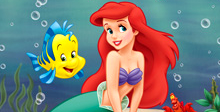 Disney's Ariel the Little Mermaid
by Blue Sky Productions
Disney's famous Little Mermaid is coming from the silver screen to your Genesis. This lighthearted adventure stars Ariel, King Triton and all your favorite characters from the movie. The evil Sea Witch Ursula's eight arms are reaching toward King Triton's undersea kingdom, turning all the Mer- people into sad little polyps. You play as Ariel or as King Triton. Depending on who you choose to be, you must turn the polyps back into Merpeople and then rescue either Ariel or Triton from the Sea Witch's Dark Lair.
Ariel Disney's The Little Mermaid takes place across four giant mazelike levels leading to the Dark Lair. Ariel and King Triton each have a normal and a super weapon. Ariel's normal weapon is her magical voice. Her super weapon is a big shower of magical stars. King Triton is armed with a fireball from his golden trident. A thunderbolt serves as his super weapon. You can also call on Fishfriends to help along the way. Sebastian clears enemies off the screen, Flounder pushes obstructions out of your way and the digger fish digs into sandy areas to uncover all sorts of interesting items. You'll find keys, hearts to regain your health meter, plus coins and gems so you can make purchases.
Under 'da Sea
Each of the Undersea Levels is a game unto itself. In the Reef, you'll encounter big, hungry sharks, electric eels, spiny sea urchins and nipping clams. The Sunken Ship is inhabited by ghosdy, pirate skeletons that fight until they are just a pile of bones.
The mazelike aspects of the game are more suitable for older gamers. But the movie characters and basic gameplay are oriented to give younger players a good gaming experience. Ariel Disney's The Little Mermaid will have you humming "Under the Sea" in no time.
TIP: The sails of the sunken ships hide polyps and sharks. Use the map to find the polyps so you don't wander around and become shark food.

TIP: Fishfriends can be selected from the screen. Press Button Batter the map. Each friend can help you out of a jam.

TIP: Ariel has her magic voice as a weapon.

TIP: Use Digger Fish to uncover treasure in sandy areas.
TIP: Scuttle's store appears at a different place in each round. Use your treasure to stock up on items you really need.
TIP: Treasure Chests can be opened with a touch. They contain items that will restore your health meter and give you more treasure. There is one at the bottom right of the first level.
TIP: Press the pause button to call up the Map screen. It shows the location of the remaining polyps and where you are.
Disney's Ariel the Little Mermaid video:
Subscribe

Gamefabrique game channel
on YouTube.
Help either Ariel, the gleeful little mermaid, or Triton, her father, foil the evil Ursula, who has transformed everyone into small, green worm-like creatures, including the character you dont initially choose.
Rescuing requires you to simply swim into the unfortunate little victims as they hang about at fixed places in the watery world; while fending off and dodging enemies like eels, clams, sharks, and several other sea meanies. Friends like Flounder and Sebastian can also be summoned for a little helping hand.
Disney's Ariel: The Little Mermaid is just beautiful. The landscapes and elegant, the music gorgeous, and the fun you can have is through the roof.
Visit the underwater kingdom of King Triton and his finny friends, and embark on this Disney - inspired adventure. Choose which role to play - as Ariel, the determined little mermaid, or as Triton, the King of the Sea. Either way, you have to battle the bewitched sea creatures and defeat Ursula to save the kidnapped merpeople.
As Ariel, you can use her musical notes to overcome evil spells. Or get help from her friends, Flounder and Sebastian as you explore sunken galleons and murky caves I through multiple levels of underwater adventure.
2005-07-24 Ariel the Little Mermaid is a movie-based game.

X
Next game: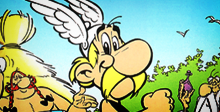 Download Asterix and the Great Rescue