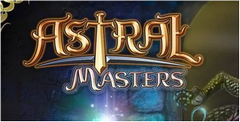 Construct a deck of powerful creatures and spells in Astral Masters, the spiritual successor to the hit PC card game, Astral Tournament. Carefully craft multiple decks using cards from the four elements of Fire, Water, Air and Earth, balancing against your mage's mental energy and life points. Then take your creation into battle against a host of opposing magi in Astral Masters' League mode, or confront your friends online via the Internet or a LAN!
Astral Masters is a fresh turn-based strategy card game that will take you into the engaging world of mages and wizards. Become a powerful mage and defeat adversary mages in a series of challenging power matches all the way to Archmage rank. Colorfully themed visuals with vignettes and mysterious murals complement an incredibly intriguing gameplay.
2005-10-08 Astral Masters features Online League. Tell your friends and play online!

X
Next game:

Download Battleship Chess