"You are a teenage ant-like robot, who is going out for a date… However, you take your dad's car and he warns you; if you make a scratch on the car, you will never drive it again."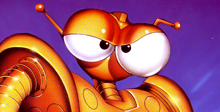 Sponsored Links:
B.O.B screenshots:
B.O.B is your average Genesis side scroller, but with a funky twist. This game has some top-notch action with radical dialogue, groovy music, and psychedelic graphics.You're the cool cat orange robot named Bob, and one night you're cruising in your car when you crash land on another planet. After "collecting yourself" and "putting yourself back together", you'll need to find a way off this strange planet.
The few instances of dialogue in B.O.B is quite weird and out of the normal text in action games. Bob will utter such lines like "Way to go!", "Groovy!" or "Radical!". These lines are a delightful change of pace.
As Bob, you'll need to go from level to level picking up ultra-powerful weapons to defeat belligerent robots that stand in your way. Some of these bringers of doom include machine guns, flamethrowers, plasma rays, and even a rocket launcher. However ammunition for your weaponry is scarce – for example you usually only have about five rockets when you pick up a rocket launcher. Therefore it's a good idea to not go wasting your rounds on peons that you may be able to simply jump over.
The level design is pretty good – kind of like a lesser version of Aladdin's. The latter featured massive levels that had many tiny nooks and crannies containing items. B.O.B's levels have these nooks and crannies containing much needed ammo and health, but they are no where near as massive. To put it in perspective, Aladdin's levels are about twice as long and complicated. But don't fret, B.O.B still is very interesting with its ladders to secrets, overhead poles that Bob can grip on to, tiny spaces that Bob may slip through by pushing down and pitfalls that won't usually result in death. Most of the pits contain this shiny lava-like substance that only constantly drains your health. Now if you don't know what to do you'll probably die here, but if you have one of Bob's Remo tools, you can get out of there right away. The Remo tools can be equipped on the status screen allow with the weapons by pushing the start button. These items bring an interesting flair to the gameplay that makes it out of the ordinary. These tools do helpful actions such as bouncing Bob up six feet, allowing him to fly, and even making him temporarily invincible. Employing these items at the correct times can aid you to absolutely destroy everything in your path.
This game is also known as Bob game.
B.O.B video:
Subscribe

Gamefabrique game channel
on YouTube.
Discuss it on B.O.B forum (1 post)
B.O.B sports very impressive visuals for the Genesis console. First of all the animation is astounding. Bob contains a slew of frames for his plethora of actions. Fall to the ground from to great a distance and Bob will land on his tin tush with his eyes rolling all about. Get to the end of a level and Bob will start to 'bust a move' right there and then. Defeat an enemy and an amazingly cool looking explosion of twisted metal fills the screen, as your jaw drops straight to the floor.

The sprites and backgrounds are etched with fine details, lush and vivid colors. Actually the sheer amount of color presented in this title is mind boggling. I actually questioned if I had seen better on the console. In addition there is no slowdown at all to hinder the excellent gameplay.
The sound effects is nice. Bob's guns sport thunderous sounds, as a round is blasted from the cold chamber, but the 'thuds' and pounding noises when Bob lands on the ground are rather dull and lack emotion. The music is marvelous. Each stage has an upbeat tune that can only be described as funky, psychedelic or groovy.
B.O.B system requirements:

P-200.
Systems:

Windows 9x, Windows 2000

Windows XP.
Game modes:

Single game mode .
B.O.B news:
2005-07-24 As Bob, you'll need to go from level to level picking up ultra-powerful weapons to defeat belligerent robots.

Comments on B.O.B:


There are no comments yet.
Commenting is closed. Please use forum to share your opinion.
X
Next game: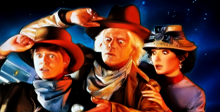 Download Back to the Future 3