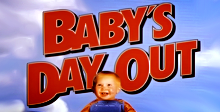 a game by Designer Software
You sure remember Baby's Day Out, the 1994 comedy film starring Joe Pantoliano and Joe Mantegna, in which a kid is kidnapped by three members of a clan and tracked down after he manages to escape. Well, a game with a similar plot has been announced for the Sega Mega Drive/Genesis few years after the movie's premiere, but it was cancelled. The only thing that can be found are two prototypes available for download on different websites. The player controls an angel, instead of Bink, and has to guide the baby to safety.
2006-04-24 In Baby's Day Out you are the guardian angel of a baby.

X
Next game:

Download Legend of Aladdin