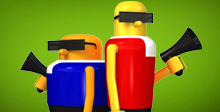 a game by SEGA Entertainment, Inc.
I've played Bonanza Bros on my Sega Master System when it was released more than 20 years ago, and I still remember it as being a fun and enjoyable game. I took the control of Mobo or Robo, one of the two playable characters, and tried to get inside houses, banks, casinos and art galleries without being noticed by guards or other persons. Playing the game in multi-player was also a lot of fun and demanded a good team work. Walking, jumping and shooting were all available actions that I had to use in order to reach the aims.
2006-03-23 Bonanza Bros is a totally fun and wacky game you have ever played!

X
Next game: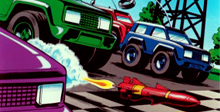 Download Championship PRO-AM