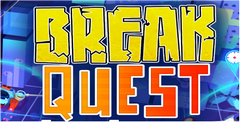 The evil business empire Azimut Total Business is once again trying to take over the world - through the television set of course. You must collect the necessary keys by completing levels that will help you bring this business down!
Break Quest is the first game of its type to incorporate a fun story. As you beat the levels you get closer and closer to saving the world. The levels are not your typical kind - they are wild! All kinds of different shapes and scenes await your breaking skills.
Break Quest also has a cool game physics engine that makes breaking and ball movement more advanced than many similar games. The game itself is highly configurable: you can change the ball speed parameters, scenes configuration, bumper size, customize power ups, select what scenes you want to play and much more.
The full version of Break Quest includes 100 unique scenes - each of them with their own colorful designs, crystal clear sound and elements behavior.
2005-02-18 Break Quest is Game Tunnel's #1 award winner for a Breakout Game.

X
Next game:

Download Break Ball 2