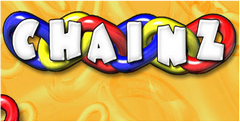 Un-chain your brain with CHAINZ! Rotate colorful links to create valuable chains in this challenging puzzle game.
Chainz has a certain appeal to it. The Chainz game is a great break from the every day work load. You do have to keep and eye on the board to know what to turn and when to turn it. One thing that should be added to the next update is to be able to connect in a diagonal manner and also to be able to move or swap links.
You have to reach a goal to advance either timed or untimed. You have great power ups like rainbow links and multipliers to work with. The game moves fairly fast, but in the untimed mode things will slow down. Also you have hints if you need them, but it cost you 2500 points. Speaking of points if you spell out Chainz you get a 25000 point bonus.
2004-11-09 Chainz is a new puzzle game of colorful logic. In Chainz you need to chain reactions and incorporate bonus links for big rewards.

X
Next game:

Download Slingo Deluxe