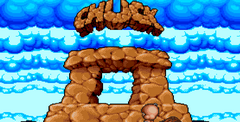 Chuck Rock II: Son of Chuck (Sega CD)
by Sega
A chip off the old Chuck Rock, Virgin Interactive Entertainment's Chuck Rock 2—Son of Chuck reprises the Genesis cart of the same name. A cartoon front-end recaps the story from the conclusion of the last Chuck adventure, right up through papa Chuck's abduction. There's good quality CD music with the same sound-effects that are on the Genesis. For those who bought the cart version there's no reason to purchase the same game on disc. Those who haven't seen it will enjoy a fine little platform game with a fair amount of hidden items and a lot of personality.
TIP: The game starts with a single continue. Learn to beat the bonus rounds to get more.
TIP: Keep the little tyke's club swinging.
TIP: If Chuck Jr. gets killed, wait for a safe moment to restore him.
2017-07-17 Chuck Rock II: Son of Chuck (Sega CD) game added.

X
Next game:
Download Revenge of the Ninja