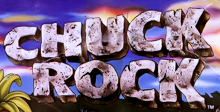 Chuck Rock
by Core Design Ltd
Chuck Rock is a very popular side-scrolling platformer spread all over the world on various platforms, including the Amiga, the Sega Mega Drive/Genesis and the Super Nintendo Entertainment System. The story happens in a fantasy world where saber-tooth tigers, neandethals, dinosaurs and wooly mamooths co-exist. The player will be able to notice the very fun and popular setting from The Flinstones in Chuck Rock. The graphic elements are very good, colors are bright and the gameplay has been acknowledged as being worthy trying.
Back in the days when man was finding out just who he was came along a fellow by the name of Chuck Rock! This bad boy has lost his girlfriend to the clutches of one of the most wicked of all the cavemen and it's up to you to get her back. Use your super strength to help save her by tossing boulders or, if you're in the mood, try some belly-busting stomach attacks! Chuck Rock is prehistoric action at its best!
You have many different styles of attacks. You can pick up boulders to toss or use your huge belly as a deadly form of attack to rid the world of the dangerous dinos!
UNGA BUNGA!!!
Me name Chuck Rock. Me big sTar of new TV game. Me call game Chuck Rock. You help me get past many jump and fight off big dinosaurs that fight me for control of my home.
Grab joystick to help Chuck Rock make it home safe. If you goof, poor Chuck Rock will have nasty fall. Or maybe hurt head. People at Virgin do good job of making Chuck Rock look nice. Me have great graphics and sound that are right out of stone age.
With many challenge and lots of fun, me new Chuck Rock game be big hit with all action game fans. Better hurry, though, Chuck Rock don't like walking under big dinosaur!
Manufacturer: Virgin
System: Genesis
Theme: Action
Difficulty: Average
Number of Players: 1
Don't Laugh-He's Probably Related to You!
Long before there was a Bedrock, there was a Chuck Rock.
But Chuck Rock hasn't been the same since his long-time rival in love, the evil Gary Gritter kidnapped his wife, the luscious Ophelia.
Kick, throw rocks and belly-butt your way through a variety of comical zones featuring over 500 exciting screens of gameplay as you help Chuck in his quest to rescue Ophelia from the evil Gory Gritter.
In addition to using good old-fashioned brute force on a host of stone-age critters, you'll have to use a little CroMagnon grey matter to solve puzzles as you weave your way through five challenging levels including a scary cave, an Ice Age, a hazardous water world and even a dinosaur graveyard.
Chuck Rock is not your typical muscle-bound-type video hero. For one thing, his physique won't win any awards, and his posture leaves a lot to be desired. For another, he doesn't live in the future but the past. The distant past. Like in the Stone Age.
And Chuck has problems. The unscrupulous Gary Gritter has made off with Chuck's beloved wife,
Ophelia. So Chuck sets off, knuckles dragging, to rescue her.
Play along with him for lots of laughs and rock-throwing fun. Chuck puts that gut of his to good use, dealing out some enemy-flattening belly-butts. You help him fight prehistoric beasts and figure out tricky puzzles.
There are five comic levels, including a spooky cave, hazardous water, and a dinosaur graveyard. Chuck Rock is so much fun, it'll have you rocking with laughter.
2006-04-24 Chuck Rock is your typical average cave man.

X
Next game: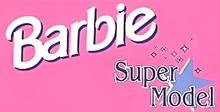 Download Barbie Super Model