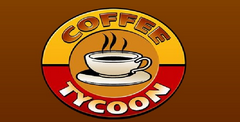 a game by Jamopolis Interactive
Anarchy Enterprises and Jamopolis Interactive have released a playable demo of Coffee Tycoon, a sim game that challenges you to build your own coffee empire. Start fresh with one store, customize your coffee business by giving it a name and choosing a logo, and store design. From there, choose a city start your coffee empire, maybe New York or L.A., or if you are really daring, the coffee capital of the world: Seattle.
Coffee Tycoon lets gamers build a virtual empire around everyone's favorite morning beverage by brewing a corporate juggernaut from the humble beginnings as a lone coffee shop. Starbucks wannabes can start in one of five cities - New York, Los Angeles, Miami, Chicago, or Seattle.
If you like Coffee Tycoon, try other games: Airport Tycoon 2, Deep Sea Tycoon, Deep Sea Tycoon 2, Fish Tycoon, Hard Truck Tycoon, Lemonade Tycoon 2, Oil Tycoon, Prison Tycoon, RollerCoaster Tycoon, Space Tycoon.
2005-04-01 Build your Starbucks empire in Coffee Tycoon.

X
Next game:

Download Age of Castles