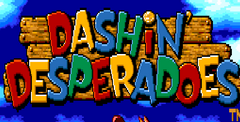 Continue:
Socket
(arcade/action)
Will and Rick (the dashin' desperadoes of the title) are constantly vying for Jenny's attention. This time, they're battling it out to see who will be her bodyguard on her round-the-world trip. We found the action fast and funny, with lots of fan places to go and things to do.
Six stages, each with three levels, provide lots of staying power for this one- or two-player game. And the three levels of difficulty should satisfy even the most proficient gamers.
2017-09-25 Dashin' Desperadoes game added.