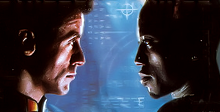 a game by Alexandria Incorporated
This is where the "non-stop action" description comes into play. You seem to constantly be running, shooting, jumping up ladders, sliding down zip-lines, etc. Levels are usually side-scrolling shoot-em-ups, but sometimes variety to a top-down perspective shoot fest that sees you rarely lifting your finger off the shoot button. These levels tend to be more frustrating. The side-scrolling levels are extremely fun.
2005-09-25 Demolition Man is a movie-based game.