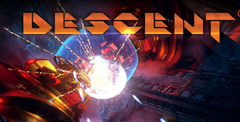 a game by Parallax Software
This is one of the better budget games around at the moment: the original first-person viewed, Doom-like hovery spaceship based shoot 'em up with trickier levels, that go up and down as well as sideways. The levels are more intricate, convoluted and seemingly senseless than the average Lloyd Grossman sentence. It's very spinny. It's incredibly swlrly-abouty. It will have you reacquainted with your last meal before you can say, "Now where did I leave my splash-proof PVC pullover?" You won't know which way is up. You'll get lost just when you least need to (like when you've set off the detonation device at the end of the level and are trying to get out before it blows...) - But you'll have an extremely good time doing it. And it's now available on Interplay's new Black Market range for less than the price of an hour in a confessional with a toothless choirboy.
2018-10-30 Descent game added.