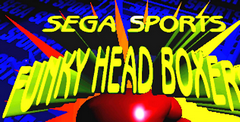 What can we say? The idea behind this game is to show a full 3-D perspective of the fighter's head. As you take a hit, the programmers wanted a different way to show the effects In this game, the head warps inward after a blow. Also built in are special killer punches but they have to be used with discretion, for as you use each one, your strength decreases. Despite its strange looks, FHB is a good boxing game. Since it is being programmed for the STV (Titan), there should be a Saturn translation sometime next year!
PUBLISHER - Sega of Japan
THEME - Sports
NUMBER OF PLAYERS - 1
2016-06-22 Funky Head Boxing game added.