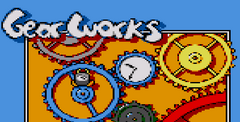 Lots of originality and a multitude of levels make this puzzle game tons of fun. You have to transform the 12 Wonders of the World into monumental time pieces by linking gears and cogs on a peg board, and getting the one stationary gear to work. But use too many gears, and your "machine" will overheat. And watch out for the Poffins, creatures that try to rust your gears.
To help you in your unique quest, you have access to an assortment of took and weapons, such as guns, bombs and oil.
2017-07-03 Gear Works game added.

X
Next game:
Download Wheel of Fortune (gamegear)