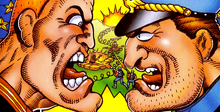 General Chaos
by Game Refuge Inc.
The arcade/strategy game called General Chaos is one of my favorites ever. General Chaos and General Havoc had to fight on a limited world map and to conquer the other's capital city, which is kind of similar with Age of Empires, just that this 1994 release is not so complex and takes less time. There are four total teams the player can choose from. The player sees the action from an isometric point of view and has to guide his team not only through violent battles, but also through strategic missions.
There's a campaign mode where you and up to 3 of your buddies can go against the computer in a set of battles with each proceeding one getting harder in difficulty and more of a challenge, for example, the computers main base only has one hard to get pass entrance. Then there is regular play where up to 4 players can team up or go against each other in combat play, and finally the last mode is boot camp, which is a training mode, so you'll get use to the game mechanics and adapt to the way of playing the game learning everything about all the units, calling out medics, etc.
2006-03-23 Defeat your enemy's army in General Chaos!

X
Next game: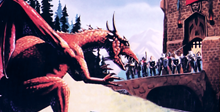 Download King's Bounty