"You control an army of 5 soldiers, and your object is to take out the other set of soldiers in team combat play."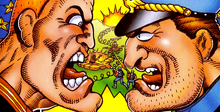 General Chaos
1.0
by Game Refuge Inc.
Sponsored Links:
General Chaos screenshots:
Armchair generals, unite! General Chaos for the Sega Genesis gives you the opportunity to run your own war from the comfort of your home. Choose your virtual leader, either General Chaos or General Havoc, and get ready to exhibit your military mastery. There are more than 50 battlefields to fight on, and four different squads to choose from: the Assault Team, the Commandos, the Demolition Squad, and the Brute Force Troop. Once you make your way from the war room to the battlefield, you'll engage in brutal hand-to-hand combat that will determine the superior army. You'll find five distinct weapon types at your disposal, flame throwers, machine guns, bazookas, grenades, and dynamite, that can mean the difference between raising your army's flag in victory and waving the white flag of surrender.
The object of the game is to defeat your enemy's army. The basic format for combat is, you select a battlefield (You basically have two choices each time, if you win you move on towards the enemy's capital). You then select one of 4 teams, all with different weapons. The most fun team are the commandos. There are only two, and they move freely (The other teams have a Starcraft-esque movement system). You then fight. 5 different types of units (such as the gunner, the flamer and the chucker) are available. There is also a medic, who heals your wounded troops, and an interesting close combat system. It eliminates cheapness, because if you only you use one punch, the enemy will fall, pull out a gun and shoot you. The sheer fun of this system is impossible to explain in words. Then the multiplayer. You get on your knees and worship this. It is so much fun to conquer with a friend (And nothing brings friends closer together than burning people alive).
The graphics are pretty good for game. The setting and obstacles are nicely done, and all the weapons have some colorful effects. The game is a little choppy but eventually you will forget that due to the fact that this game has great gameplay. The characters all look like cool commandos.
General Chaos game features:
It's all-out war
Choose from two generals
Four different squads
Five weapon types
One-to-four player combat
Over 50 different battlefields
There's a campaign mode where you and up to 3 of your buddies can go against the computer in a set of battles with each proceeding one getting harder in difficulty and more of a challenge, for example, the computers main base only has one hard to get pass entrance. Then there is regular play where up to 4 players can team up or go against each other in combat play, and finally the last mode is boot camp, which is a training mode, so you'll get use to the game mechanics and adapt to the way of playing the game learning everything about all the units, calling out medics, etc.
General Chaos system requirements:

P-200.
Systems:

Windows 9x, Windows 2000

Windows XP.
Game modes:

Single game mode

Multiplayer (HotSeat).
General Chaos news:
2006-03-23 Defeat your enemy's army in General Chaos!

Comments on General Chaos:


There are no comments yet.
Commenting is closed. Please use forum to share your opinion.
X
Next game: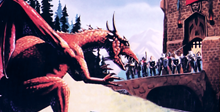 Download King's Bounty