Indiana Jones and the Last Crusade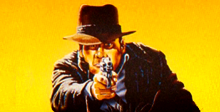 a game by Tiertex Design Studios
Indiana Jones and the Last Crusade is a set of three games released in the 80s and 90s. I remember playing all of them: the action game, the graphical adventure and The Last Crusade. In the first version the player controls Indiana Jones through different levels. The game is a side-scrolling platfomer and Indiana Jones is featured in different settings from the movie. The second one is an adventure in which the player controls Dr. Jones in order to find the secret of the Holy Grail. The last game is another side-scrolling I have enjoyed because was fully following the story in the movie.
The Indiana Jones and the Last Crusade game has 5 levels, each of them are rather large, and are all taken from locations of the movie. The first level is "The Cross of Coronado" and is set where in the film, Young Indiana gets the cross. In the Indiana Jones game, you play as the normal Indiana, strangely. Level 2 is set on the top of a train, level 3 is the catacombs, level 4 is set at the Nazi castle and level 5 is at the Holy Grail itself. This level includes things such as the leap of faith and even the cup section, where you must choose the correct cup to proceed and see the end sequence.
Levels all have there own range of traps and hazards, such as spikes and flames, and each level is populated by bad guys, be it people or animals such as rats. Opponents can be defeated by swinging you whip at them a few times of punching them a few times. The latter is the worse option since you can get hit more easily. The whip can be upgraded by collecting a whip icon, this makes the whip longer for a few swings.
The music is very good, with the music from the films recreated very well for this game. The levels music is also fairly good, and the Holy Grail's music is eerie.
A blade in the hands of a sword master flashes before your eyes—but this time you don't have a gun. As Indiana Jones, you're armed only with your trusty and versatile whip, as you battle your way through five dazzling levels in search of the Holy Grail, solving puzzles along the way. This time, you need the Grail to save your kidnapped father, Indy Senior! Run, jump, fight, whip, and swing your way to the end of each level, where you'll have to defeat increasingly gruesome and deadly bosses. Detailed graphics, and realistic animation (especially the biting lash of your whip), make searching for the Holy Grail an unholy pleasure.
2006-01-24 Indiana Jones and the Last Crusade - your task is to find the Holy Grail.

X
Next game: