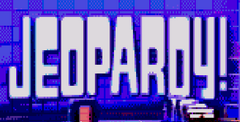 a game by Electronic Arts
Continue:
Puggsy
(logic/puzzle)
Jeopardy is a nice break from action, RPG and sports games. It's is a family title that is especially fun for all older gamers and those who like "brain games."
The graphics of the game have been digitized directly from the long-running TV show. The player icons look like real game show contestants. And just like the TV version, each contestant reads the answer and tries to be the first to punch a button...if they think they have the correct response. With the 3 player option, Players 2 and 3 share the second controller and Player 2 hits the direction pad side.
The three contestants select an answer from six different categories and five different dollar amounts, and must enter the correct question to win that dollar amount (an incorrect response subtracts that value from your total; thus Jeopardy). You enter what you think is the correct response and the computer forms it into a question. When all 30 of the answers are questioned, you then go on to Double Jeopardy with the five dollar totals on each category doubling. At the end of the game there is a Final Jeopardy category where you bet any or all of your winnings on the final answer. Win and you double your bet. Lose and you lose it all. The person with the highest dollar total wins. The only drawbacks to Jeopardy are that you have to enter the answers by selecting the individual letters from an alphabet; and that you cannot pause the game during a question. Otherwise, Jeopardy is as much fun as the TV game. Jeopardy is a fast-paced family game for trivia junkies that test your knowledge of the world.
TIP: Play as the top wrestlers in the game!
2017-08-23 Jeopardy game added.