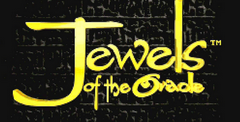 Jewels of the Oracle
by SunSoft
An archeological site has recently unearthed an ancient site where people were trained to use the now-lost skills of logic, reasoning and most importantly, magic. Now this new dangerous combination has been released into the world, and you get a chance to use or abuse it. Jewels of the Oracle features exquisitely rendered 3-D in stunning photorealistic quality graphics and captivating sounds to keep players attention. while they attempt to solve the interactive puzzles.
MANUFACTURER - SunSoft
THEME - Adventure
NUMBER OF PLAYERS - 1
Continue:
Lunacy
(adventure/rpg)
2016-08-29 Jewels of the Oracle game added.