Jim Power: The Lost Dimension In 3-D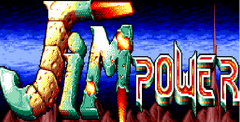 Bring another dimension to your Genesis system with Electro Brain's newest action game and the 3-D glasses that come with it. Don't let the hype fool you. Jim Power: The Lost Dimension in 3-D is a solid side-scroller. The hero's changing persona keeps you on your toes; you play in human form in one level, as a rocket in another, and so on. With some of the best character animation ever on a game system, this cart will entertain you from the moment you don your shades until you battle in the final assault.
Hot Hints
Hints:
Be on the lookout for keys. You need every one of them to finish the levels.
Be patient but keep your finger on the trigger.
Go tor high scores by collecting as many gems as you can find.
2017-10-19 Jim Power: The Lost Dimension In 3-D game added.