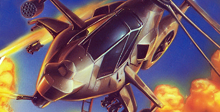 Jungle Strike
by A Highscore Production
This is a decent sequel to EA's Desert Strike. Like the first game, you control a helicopter on a series of military missions. Jungle Strike covers much more territory than the first game, including Washington DC, a jungle river, and a snow fortress. In addition to your helicopter, certain missions also allow you to control a motorbike, hovercraft, and Stealth bomber.
Jungle Strike takes a long time to complete. There are eight campaigns compared to four in the first game, and each has a long list of missions. Your job is to successfully complete all the campaigns assigned to you, as well as every mission that makes up the campaigns. Desert Strike was just a warm up. In Jungle Strike, things will really get hot.
2005-06-05 Jungle Strike is a helicopter game.