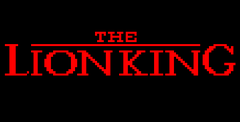 Lion King (gamegear)
by Sega
The mane Event: Playing as Simba, you'll grow from a mischievous cub to an adult lion intent on winning his rightful crown. As the very young Simba, you'll experience hakuna matata. That's no worries. You'll play with your animal buddies, chase after butterflies, and practice your kingly roar. Your carefree days at Pride Rock end abruptly when King Mufasa is lost in a side-scrolling wildebeest stampede — stay above the herd, or you'll get trampled.
Things get serious as you grow up. You've gotta find your wise friend Rafiki, make your way through hazard-ridden Jungle Caverns, and fend off a pack of hyenas before you can claim the throne from your usurping uncle. Good thing that you develop longer leaps, defensive paw swipes, and a seriously imposing roar.
All the movie's greatest moments are in the game. In the bonus rounds, you'll play as Pumba in an insect-eating race. Your wisecracking pal Timon introduces each level. And your final battle with Scar will make your fur stand on end. Look for more cover ge of this exciting new game in a future issue of Sega Visions.
Overview: You've hummed the tunes. And soon you can swing into Simba's territory on your Game Gear with The Lion King. This fun-filled Adventure from Sega lets you relive everything you loved about the film, from Simba's carefree youth to his confrontation with Scar. Along the way, you'll meet up with old friends like Pumbaa, catch some dinner, and frolic in the water. With magical Disney graphics, hit songs from the movie, and a kingdom of animal characters, The Lion King will give you a roaring good time.
If you like Lion King (gamegear), try other games: Lion King.
2017-07-07 Lion King (gamegear) game added.

X
Next game: