"The playfields in Marble Madness are comprised of 3D mazes with narrow raceways. Your job in each level is to maneuver a marble around the raceways, trying to reach the Goal before the timer runs out."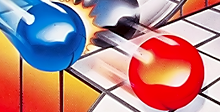 Marble Madness
1.0
by Electronic Arts/Atari Corporation
Sponsored Links:
Marble Madness screenshots:
Marble Madness is a very old game and has appeared on many consoles. The aim is to guide your marble to the end of the maze. Any extra time you have is added on the time for your next level, so it pays not to hang around. This can be played with two players for double the fun.
While it may not sound fun to simply guide a marble to the end of a maze, it really is. Along the way you have to get it up and down ramps, avoiding weird creatures that are roaming around and also avoid the deadly black marble. This marble has the ability to send you flying and in a pushing contest it always wins. The easiest way to get rid of it is to lure it into flying off the edge, which always puts a smug grin on my face. If you run into a creature you get stunned for a little while, if you run over acid then your marble will dissolve. If your marble falls down a sizeable drop then it gets stunned for a while, and if you fall down too far then the marble shatters and a nifty little brush sweeps up the mess. Your marble then reappears nearby. You have infinite marbles, but time is really the key factor.
The first level is pretty easy but it soon gets much harder. I have never actually got all the way through all 6 levels but I came within a few seconds of doing so. I don't think you get anything much for beating all 6 levels except pride. Being that this was such an early game, hidden extras probably weren't considered too heavily. You can also have 2 people playing, which adds quite a bit of fun to the game. If you fall more than a screen length behind the other person then you lose some time but your marble gets warped forward quite a bit. In general it's just more fun to play it with someone else because then you're not only racing time, but someone else for personal pride.
There are two different control modes, 45% and 90%. Either one that you use you should have no problem learning and mastering in no time. You should get frustrated trying to maneuver around frying pans that try to hit you in the head and acid that burn you down to nothing, you might even say a couple four letter words, but no matter what happens, the controls will stay the same, great.
There are a few twists in the later levels though to throw you off balance such as different surfaces causing your marble to slide somewhat and even a level where gravity is reversed. There isn't much more to say about this game because it's pretty basic. Even though it's basic, it is good fun for the length of the game and even better if you play it with someone who remembers it from when it first came out.
Marble Madness features:
Guide a marble through a maze
Time is the biggest enemy
Variety of ostacles and enemies to avoid
Large number of short cuts to discover
Six stages
Great one or two player action
Guide your marble to the finish in the time given. Along the way there are plenty of routes, but also obstacles to overcome like acid puddles and the powerful black marble. Infinite marbles is handy, but you can't afford to lose too many or time will run out. Classic action in this game.
Marble Madness system requirements:

P-200.
Systems:

Windows 9x, Windows 2000

Windows XP.
Game modes:

Single game mode

Multiplayer (HotSeat).
Marble Madness news:
2006-03-31 Guide your marble to the end of the maze in Marble Madness!

Comments on Marble Madness:


There are no comments yet.
Commenting is closed. Please use forum to share your opinion.
X
Next game: