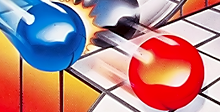 a game by Electronic Arts/Atari Corporation
Guide your marble to the finish in the time given. Along the way there are plenty of routes, but also obstacles to overcome like acid puddles and the powerful black marble. Infinite marbles is handy, but you can't afford to lose too many or time will run out. Classic action in this game.
2006-03-31 Guide your marble to the end of the maze in Marble Madness!

X
Next game: