Mary Shelley's Frankenstein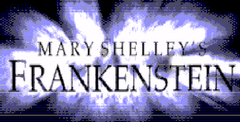 You re not a monster; you're just misunderstood. That's what you have to convince the townsfolk in Mary Shelley's Frankenstein from Sony Imagesoft. This Sega CD Action/Adventure combines clips from the film with inventory-based gaming, puzzle solving, and some truly tame fighting. As the limping Creature, you search for clues to your existence, collect items that further your quest, and battle the narrow-minded villagers who stand in your way. Your creator considers you a vile mistake, but use your brains with that brawn, and you can prove him wrong.
Hot Hints
Hints:
Burn down the storekeeper's house by throwing hay on the candelabrum.
Low punches have more reach than low kicks.
Save before each fight and whenever you see tarantulas. They can sap your energy as fast as a full-size enemy.
2017-07-31 Mary Shelley's Frankenstein game added.

X
Next game:
Download Road Rash (Sega CD)