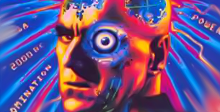 a game by Sensible Software Ltd./Virgin Games
This is a real-time strategy video game developed in early 90s for several platforms, including the Amiga, Sega Mega Drive/Genesis, Super Nintendo Entertainment System and DOS. The game's plot centers around a new planet taking form somewhere in the universe. The planet has a bright future because it is populated with very intelligent creatures, but needs a God to protect and look over it. Everybody wants to rule this planet, so the objective of the game is to conquer the available 28 islands. The player takes control of one of the four Gods, Scarlet, Oberon, Madcap or Caesar.
Continue:
Warsong
(strategy or wargame)
2006-04-29 Mega Lo Mania is a strategy game rather like Populous or perhaps The Settlers.