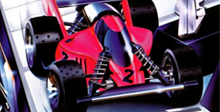 Micro Machines 2
by Codemasters Software Company Limited
Micro Machines II was a great released by Codemasters, featuring cars that require different handling techniques for each course or track. The game brought hovercrafts and helicopters as well. The head-to-head playing mode was the most fun, when each player had to earn points by driving a full screen ahead of the other players. I only played the SNES version, but I heard the PC one had a track editor, which would have been a great addition for any platform. The Turkish 90s TV star Violet Berlin was a playable driver in the game.
Micro Machines 2 video:
Subscribe

Gamefabrique game channel
on YouTube.
The graphics are still classic birds eye view, but they are a bit better than Micro Machines. They are colourful and react with every move.
The menu music is good, very lively. Sometimes you might want to watch the demo to hear it. You can beep horns this time which doesn't do much against the computer.
2006-11-22 Micro Machines 2 game description updated.

X
Next game: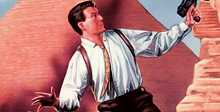 Download Rolling Thunder 2