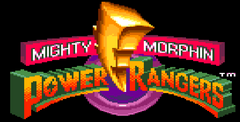 Mighty Morphin Power Rangers (gamegear)
by Sega
Rank On Rita
Take on ruthlessly rotten Rita Repulsa and her hideous horde with five talented teens in Mighty Morphin Power Rangers for the Game Gear from Sega. Pound the snot out of everything from the Putty Patrol to the massive Nasty Knight in this power-filled portable. With three types of action - Story (seven rounds of alien-whupping joy), Versus (choose your fighter and wail on computer-controlled opponents), and Link (go toe-to-toe gear capability) - there's plenty of thumb-bruising to go world saving in this Special Attack-filled Fighter. 'Power Rangers may be the top-rated kids' show worldwide, but it offers enough serious action for even the most jaded experienced gamer. Dogging aliens has has never been so fun.
Hot Hints
Hints:
Double-tap Toward to Dash toward your opponent.
Double-tap Away to Evade danger.
Hit Buttons 1 and 2 simultaneously to launch an Extra Fierce Attack or Throw from within grapple distance.
Each Ranger has three Special Attacks. Press Down and then Toward while hitting Button 1, Button 2, or Buttons 1 and 2 simultaneously to put the major hurting on your opponents.
2017-07-10 Mighty Morphin Power Rangers (gamegear) game added.

X
Next game:
Download X-Men - Mojo World