Miracle Piano Teaching System
The Miracle Piano Teaching System can actually teach you to play piano, read music, or compose your own songs by using video game techniques to relieve the monotony of repetitive practice. Based on the same system available for the Mac and the PC, the Miracle system consists of a mid-size keyboard that plugs into your Genesis control port, and a standard game cartridge.
We found the software easy to use and fun to play It constantly monitors your progress, and can even control the keyboard to demonstrate lessons or play a duet with you. Keep it up, and you may find yourself playing at Carnegie Hall.
2017-08-22 Miracle Piano Teaching System game added.

X
Next game: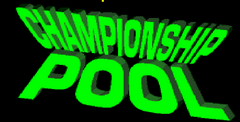 Download Championship Pool