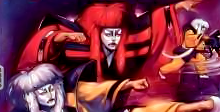 a game by DreamWorks Interactive
This was a great beat 'em up game which was very popular in Japan, and unfortunately not so popular outside it, though it was released for the Sega Mega Drive/Genesis, which was back then one of the most used gaming platforms. All the story and the characters are based on Japanese mythology, which was something unique, and the fights had a time limit which meant defeat for the player if the bar reached zero. On the fighting scene there were also holes and traps not only the player could have fallen into, but also the opponents.
2006-04-19 Step through the Gate of Time and straight into the Shogun Dynasty in Mystical Fighter.

X
Next game: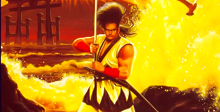 Download Samurai Shodown