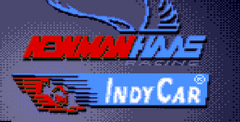 a game by Acclaim Entertainment
Any race begins before the green flag. Just ask Nigel Mansell, the "star" of Acclaim's Newman Haas Indycar. You can customize your vehicle to the track, modifying transmission, stagger, wings, tires, camber, and more. When you (as Mansell) take to the track, though, the iffy controls could lurch you into a 180 MPH crash like the ver-tebra-crushing collision that took Mansell out of contention in 1987. You'll be hearing a lot of thuds as you smash into the sidewalls. The speed's not so hot either - this one's more for garage strategists than velocity freaks.
Hot Hints
Hints:
Increase your Wings setting when your course is especially twisty.
A black flag means you must immediately pit in or risk disqualification.
If you get a "fuel low" warning in your final lap, don't pit in. You'll still make it to the finish line.
2017-11-05 Newman Haas Indycar game added.

X
Next game:
Download Road Rash (gamegear)