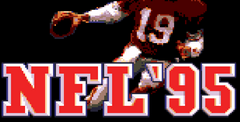 NFL '95 (gamegear)
by Sega
Warm-Up
You want it...you got it. Gut-pounding NFL action slams onto your Game Gear in NFL '95 from Sega Sports. Featuring the NFL's greatest quarterback, Joe Montana, and all 28 real NFL teams, with actual NFLPA players in full League Play, Playoffs, and Super Bowl action. The new "Behind the QB" view puts you right on the field. One or two players (Gear-to-Gear) can chuck the leather and go for the uprights in this great to-go version of America's gridiron game.
Bigger, Better Football on Your Game Gear!
This one has it all—the real players, thehonest-to-good-ness teams, the logos and helmets, and more. The players perform according to their real 1993/94 statistics. The "Behind the QB" view gives more realism and punch to the pounding action. At 4 megs, this is one big full-color portable cart. Take a look at these early screens, and we think you'll agree: NFL '95 looks great! More to come in a future issue.
2017-07-07 NFL '95 (gamegear) game added.

X
Next game:
Download Fred Couples Golf