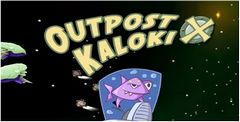 Outpost Kaloki is a light-hearted, comical 3D strategy / management game. Featuring gorgeous cartoon-style graphics and a whimsical storyline, Outpost Kaloki puts you in charge of new space station which you must grow into profitability.
Keep the princess happy, and keep your customers happier as you attract new and bizarre visitors to your deep-space lemonade stands, parks, and laboratories. Chat with a variety of genuinely strange alien creatures. Great fun for the whole family!
2005-01-26 Outpost Kaloki is a brilliant trading strategy game.

X
Next game:

Download Lemonade Tycoon 2