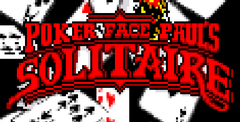 Poker Face Paul's Solitaire
by Sega
Poker Face Paul's Solitaire features four very different (and very addictive) games, each with a distinctive set of options.
Klondike, the most familiar Solitaire game, lets you choose from three displays (they space the cards according to how much of the playing table you like to see at a glance). The cart also features Elevens, Monte Carlo, and Calculation.
2017-07-04 Poker Face Paul's Solitaire game added.

X
Next game:
Download Poker Face Paul's Gin