Help Bobby find Bubby! In Taito's Rainbow Islands, a singleplayer Genesis adventure, the Wizard of Darkness has separated the twin stars of the arcade hit Bubble Bobble. Now Bobby must fight and jump his way through seven islands to rescue his brother, using rainbows to blast enemies, trap them, and reach high places.
You get through an island by hopping your way to the top. When you can't reach a platform, just shoot out a rainbow or two and walk on up. But watch out: A whole bunch of enemies want to keep you and your brother apart, and just one hit will cost you a life. And don't dawdle — if you take to long to finish an island, the tide rushes in and wipes you out. If you do make it to the top, you collect a treasure chest full of goodies.
You can take it slow in Easy or Normal mode, especially when you start with seven lives. But in Mania mode, you could wind up taking a bath before you get anywhere near Bobby's bro.
Hot Hints
Hints:
You have unlimited rainbows.
Move quickly! Rainbows dissolve after a couple of seconds. You could go sailing through space or free a trapped enemy if you take too long.
Eat any food that you find along the way.
Shoot nonstop at the meanest enemies - it takes more than one rainbow to get rid of them.
Jump to the next platform when you've climbed to the top of a rainbow. Otherwise you could slide back down the other side.
2017-10-20 Rainbow Islands Extra game added.

X
Next game: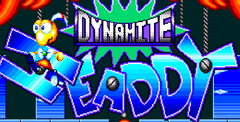 Download Dynamite Headdy