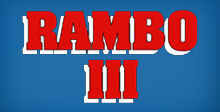 Rambo 3
by SEGA Entertainment, Inc.
The third installment in the Rambo series was a fantastic game, both a commercial and a critic success. The plot centers on Rambo, the main character in the movie and in the earlier games, who is called back at duty by Colonel Trautman, who was captured by Afghanistan, that was controlled by Rusia. The game was released on many platforms and I remember playing it on my Sega Mega Drive/Genesis for hours long. There are a total of six missions in which Rambo, seen from an overhead perspective, has to defeat all his enemies.
2006-04-19 Rambo 3 is based on the popular movie.

X
Next game:
Download Skeleton Krew