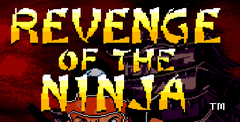 Revenge of the Ninja
by Namco
Another action-reaction title from Renovation is spinning it's way to your Sega CD. Revenge of the Ninja takes you on a challenge across 18 stages of peril through graveyards, dark forests, raging rivers, and eventually a castle fortified with hundreds of trained ninja warriors. Similar to their best-selling game Road Avenger, Revenge of the Ninja takes the concept further by randomly selecting the stages for a wider variety of g3meplay.
TIP: In the Robot Stage go: D, L, L, A, L, U, R, R, U, R, R. U, L, L, U.
TIP: Medusa will attack with her snakes if you don't move: A, U, U, A, A.
2017-07-17 Revenge of the Ninja game added.

X
Next game:
Download Star Wars: Rebel Assault