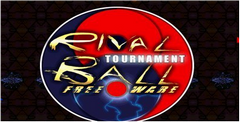 a game by Longbow Digital Arts
Battle breakout is sure to be an entertaining challenge to up the ante for any fan of block breaking games like Ricochet. You square off against a computer opponent or online challenger to score the most points and move on to successively more difficult levels. Campaign mode lets you face newer more challenging competitors with each successive victory. A username and password are required for online play and posting of high scores to the online hall of victory.
2005-03-06 Rival Ball Tournament is a breakout remake.

X
Next game:

Download Break Quest