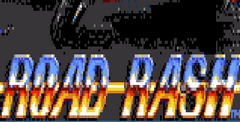 a game by Time Warner Interactive.
New Pavement-Scraping Competition To Go.
Motorcycle Mayhem: Road Rash pits you against 14 other moto-maniacs in a five-course, obstacle-ridden, highly illegal circuit. Illegal means that cops are on the lookout for scofflaws like you. Get busted, and you could face a steep fine, not to mention a devastating delay. Illegal also means tilt no dirty tactic is off limits. Club- and chain-wielding opponents will attempt to knock you off course. Get to them first, and you can steal their weapons. Of course, brutalizing your opponents isn't your only goal. To become the champion road rasher, you've gotta finesse five levels of road-blocked, oil-slicked, cop-infested, traffic-ridden courses. And with conditions like dies, you're gonna need bike upgrades. Use your prize money to trade up — the shop stocks 15 all-new bikes. Assess the upcoming course, and choose carefully.
Finish among the top three racers on each course, and you advance to the next level. Then it's on to five more hair-raising races with higher stakes, rougher opponents, more cops, and stiffer fines.
Overview:
Just when you thought the streets were cleaned up, Road Rash II comes skidding onto your Game Gear from Time Warner Interactive. This vicious sequel packs in more of everything that made the original an instant classic. More weapons. More bikes. More obstacles to send you sailing. And more twisted competition when two players hook up Gear-to-Gear. So what are you waiting for? Cable up with an opponent and wipe him off the road!
Hot Hint's:
Don't even think about racing the Alaskan track until you've mastered a couple of the easier courses.
Check your rear-view mirrors for cops and opponents.
You can upgrade your bike even before your first race, but hold off until you're comfortable with your starter vehicle - the others are tougher to control.
You can go off road to avoid obstacles and opponents.
Damage to your bike is cumulative. Damage to your body is not.
2017-07-07 Road Rash (gamegear) game added.

X
Next game:
Download Racing Aces