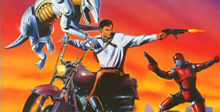 Rolling Thunder 3
by Namco Ltd.
This game doesn't need any presentation. The arcade version of Rolling Thunder 3 was quite popular and was even distributed outside Japan thanks to Atari. You take control of Albatross, a spion whose mission is to save a missing female agent, part of a secret society from New York. There are two different stories in the game, each one having five stages. Though the player starts with a default gun, more advanced weapons and ammo can be found throughout the game. The character just has to enter the doors marked with "bullets" or "arms".
Duck, seek cover behind crates, or jump away from enemy gunfire as you progress through the stages. While you only have forty bullets, ammo can be replenished by entering specially marked doors, and you always have a knife for close-range slashing. Players can also find an additional weapon to use, typically found behind doors marked "special", which replaces your knife until you run out of ammo.
2005-09-25 Rolling Thunder 3 continues Rolling Thunder series.

X
Next game: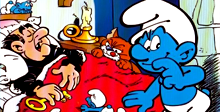 Download The Smurfs