"Can you master the ancient art of Shaq-Fu?"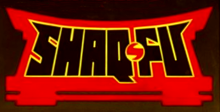 Shaq Fu
1.0
by Delphine Software International
Sponsored Links:
Shaq Fu screenshots:
An evil sorcerer named Sett Ra has grown weary of his home planet and desires a new world to call his own. The problem is that this world is none other than the Earth! In addition, he's formed an alliance with several formidable fighters to ensure his success. Yet hope is not lost. The Chosen One can put an end to Sett Ra's reign of terror if you can locate him in time.
He's a basketball player, a rap artist, a movie star, and … a powerful warrior with his own fighting style? You'd better believe it, as Shaquille O'Neal takes center stage in this fight for what's right. Join Shaq as he embarks on a quest to find the Chosen One and prepare to fight your way past eleven ancient warriors who will try to thwart your every move.
Shaq-Fu is a fighting game from the designers of Flashback that allows you to play as any of the twelve fighters (including Shaq himself) in a Duel, Story Mode or Tournament. Options include three difficulty levels, variable time limits, different control configurations and changing the game speed from normal to fast. Special moves must be learned as you fight, since they have been intentionally left out of the instruction manual. Incredibly detailed animation and backgrounds will make your battles versus the computer or human player memorable.
Can you master the ancient art of Shaq-Fu?
Shaq Fu features:
The game includes more than 10 characters
Hand-to-hand combat
Several modes
High replay value
If you like Shaq Fu, try other games: Ultimate Mortal Kombat 3.
Shaq Fu system requirements:

P-100.
Systems:

Windows 9x, Windows 2000

Windows XP.
Game modes:

Single game mode .
Shaq Fu news:
2006-04-29 Can you master the ancient art of Shaq Fu?

Comments on Shaq Fu:


There are no comments yet.
Commenting is closed. Please use forum to share your opinion.
X
Next game: