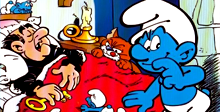 a game by Infogrames Entertainment, S.A.
The graphics are really great. They can best be described as cartoony and fresh. Many colors are used which gives a great effect, and makes it look similar to the cartoon. To give a few examples: The ducks in the lake act are really well-drawn, as for the forests and the lake.
The music is certainly good. There are a lot of different tracks, and a few tunes are the same as in the cartoon. Especially the music in the "Field"-act is great. The sound is also of good quality. The enemies, which are all animals in the game, make the same sound as in real life.
If you like The Smurfs, try other games: Toy Story.
2005-09-26 The Smurfs is a game with classic Smurf characters.

X
Next game: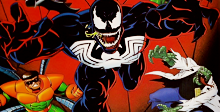 Download Spiderman - The Animated Series