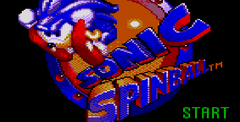 Sonic Spinball (gamegear)
by Sega
Overview
Desperate for some portable Sonic? The wait is over. The original blue streak slams his way back onto the small screen in all his spiny glory in Sega's Sonic Spinball for the Game Gear. This time Robotnik's set up a robot factory in his Volcanic Veg-0 Fortress, and Sonic must crash through the elaborate pinball security system to foil his archenemy. Help the world's coolest hedgehog save Mobius from mechanical doom by bouncing off more gears, bumpers, pistons, padlocks, and robotic enemies than any megalomaniac has ever assembled before.
A Diabolical Contraption
Your mission is straightforward, but it's a challenge: Slam your way through the Veg-0 Fortress's Toxic Pools, Lava Powerhouse, and Machine on your way to the showdown with Robotnik. Spin-attack anything and everything while snagging all the rings you can grab. Knock out drop targets to bust open barriers, warp into boss areas, and drain toxic ooze away from precious Power Emeralds. Take some wild rides down chutes, up geyser accelerators, and across dangerously unstable platforms. And don't forget to collect those Emeralds.
Oh, one word of advice. Remember that you're not dealing with any old pinball. All Sonic's trademark moves enter the game play—in addition to spinning like a whirlwind, he runs, jumps, smirks, and grooves to the soundtrack of techno-tunes with his customary flair. So watch out, Robotnik. This ball of velocity has the edge on attitude.
The bellows give you a boost if you fall behind the first flipper in the Lava Powerhouse.
A hedgehog cannonball can hop a free ride in the direction of the arrows.
There's more to the bonus rounds than extra rings. These sunken treasure chests contain extra lives, megapoints, and more.
It's hard to follow the arrows with clucks popping out of portholes and steam bursts buffeting you this way and that.
Skydive into Doctor Robotnik's Volcano Veg-0 Fortress to save the creatures of Mobius.
Grab glittering Emeralds to advance to the boss rounds.
Double trouble! Stay on top of this ghoulish pair and bop each one repeatedly.
Hot Hints
Hints:
When you've collected half the rings in a Bonus Round Cage, the gate to the next cage opens. Exit the third cage before the clock stops, or you'll forfeit all your Bonus earnings.
Guide Sonic with the D-Button. Steer hard to the Left or Right when you're falling toward any flippers.
Stand up and look around when you find yourself on a flat surface. You'll probably discover some treasures or dangers close at hand.
Press start to see your score.
Always go for the drop targets first - you might just open exits and close death gutters.
Pull hooks to activate flippers.
Overview
Are spinning spines your style? You probably devoured Sega Visions' early coverage of Sonic Spinball for the Game Gear. You scoped out the enemies and contraptions in this fast and furious Sega title. Now you're ready for a level-by-level tour of Robotnik's futuristic pinball prison.
Give Robotnik The Blues
You know the story. Power-mad Doc Robotnik's bent on transforming the creatures of Mobius into robots, and Sonic's gotta blitz through the original rotten egg's pinball security fortress to save them. Crash into mechanized critters, rocket through gizmos and gadgets, and show Robotnik who's got the edge on attitude. Oh yeah—and don't forget those Power Emeralds.
Hot Hints:
You get more power from the tip of the flipper.
Use your spin attack to get started in the Bonus Rounds.
Look for an Emerald in the Machine's mechanical safes.
If you like Sonic Spinball (gamegear), try other games: Sonic Spinball.
2017-07-05 Sonic Spinball (gamegear) game added.

X
Next game: