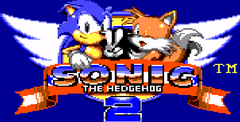 Sonic The Hedgehog 2 (gamegear)
by Sega
Blue blazes! Didya know Sonic 2 on the Game Gear is an all-new adventure for our boy in blue? In Sonic 2, you get Sonic's Super Spin Attack as he unleashes it on Robotnik's Master Robots, including the powerful Silver Sonic. This all-new adventure has the fast-moving fun Sonic is famous for!
Zone-Select Code
Don't zone out if you're stuck! Try this handy Zone-Select Code to unstick yourself!
At the Sega logo screen, press and hold the D-Button Down/Left, Button 1 and Button 2 simultaneously. Hold until the title screen appears and Tails blinks. On Tails' third blink, press Start when his eye is shut. You'll hear a chime if you've done this correctly.
2017-06-30 Sonic The Hedgehog 2 (gamegear) game added.

X
Next game:
Download Sonic Chaos