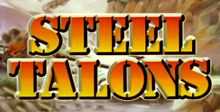 You'll be up against a wide variety of enemies, including tanks, choppers, missiles, jet fighters, and more as you try to earn your place in the Steel Talons. There are 14 combat missions to test your flying skills as well as your courage and intelligence, so come prepared and ready for the fight of your life.
Your objective is to go through a series of missions in your quest to be the top pilot of the country! You have to battle the opposition in a variety of landscapes. You battle across foggy conditions, desolate canyons, farmland, and even rocky, sharp mountains.
2006-04-30 Steel Talons is a high-tech combat flight simulation highlighting a futuristic Army attack helicopter.