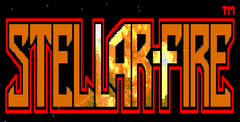 Overview
Stellar Fire from Dynamix is a furious-paced battle to the death between you and the Draxons. This one-person Sega CD shooter is an intense polygon-based game that lets you take your ship, the Raven, in any direction across the landscapes of six moons and a planet. Spectacular equality sound effects highlight massive explosions. The original music will rock you to your core. Obliterate the security shield system and moon hop your way to the Draxons' home planet, Arctura.
It is the year 2206. You stand alone in a seemingly impossible mission. Taking the hattle hack to the Draxons' home is the only way to stop the cybemetically linked warriors' assault on all the populated worlds. In a tirst-person ride over the moons' surfaces, you guide the Raven through some of the fastest polygon-battles ever seen. Using five different types of weapons, from heat-seeking missiles to lasers, you blast mechanized monstrosities while glued to your radar—searching wildly for the Defense Force Generator, in hopes of making it to the next moon.
Hot Hints:
Keep an eye on your radar. It you aren't traveling in the right direction, the game is lost Irom the start.
The airborne enemies always end up low enough for you to take out as they head tor the horizon.
You have unlimited ammo. Use it.
It's not worth it to use a Continue on the first moon. You have only three, so just restart if you are in the early stages.
If you like Stellar Fire (Sega CD), try other games: Stellar-Fire.
2017-07-16 Stellar Fire (Sega CD) game added.

X
Next game:
Download Dracula Unleashed