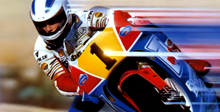 a game by SEGA Entertainment, Inc.
Super Hang-On is a motorcycle game from 1988 which was released for many platforms, including the Super Nintendo Entertainment System and the Sega Mega Drive/Genesis. The game featured motorcycle racing and looks similar to Hang-On, the first release of the series. There are a total of four tracks which can be raced on, each of them placed on a different continent. The one in Africa is the easiest and the shortest track, while Asia is the second easiest. Europe is the hardest stage and is 18 stages long, while America is only 14 stages long.
2006-04-30 Super Hang-On is two motorcycle racing games in one.

X
Next game:

Download International Super Karts