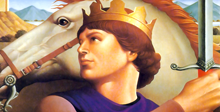 Sword of Vermilion
by SEGA Entertainment, Inc.
Sword of Vermilion, also known as Vermilion in Japan, is a console role-playing game published in 1989 for the Sega Mega Drive/Genesis and later for PlayStation2, PlayStation Portable and Nintedo's Virtual Console Wii. The game centers around Erik, the king of Excalabria, who aims to defeat Tsarkon and free his world of evil. The gameplay featured different views, including Town View, Battle View, Dungeon View and Boss View. Each view has a different perspective and puts the player to different challenges.
2006-04-30 Sword of Vermilion is a combination of action, adventure, and RPG elements.