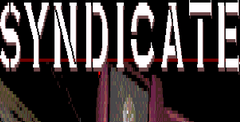 a game by Electronic Arts
If you think doing your tax returns is complex, take a crack at Syndicate from Electronic Arts. This Adventure/RPG puts you in charge of cyborg operatives as you try to gain control of the world for your crime syndicate. The game suffers from the intricacy of the button combinations needed to direct its many features. While the story line is cybercool and offers a wide variety of play, getting into the game is a complicated task. If you're into strategy games where you assume microcontrol of your players and surroundings, this is a good title for you. But if you're easily frustrated, try something different.
Hot Hints
Hints:
Press Button A and Start to have all your agents operate together.
Sell the weapons you collect to keep your cash reserves.
In a bind? Go into Panic mode by pressing Buttons A and B together.
2017-11-05 Syndicate game added.

X
Next game:
Download Sigma: The Adventures of Rex Chance