The Adventures Of Batman & Robin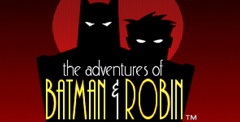 Sega's hot Batman and Robin game series has come to Game Gear as well.
The Adventures of Batman & Robin on the portable screen takes a slightly different story line.
The Joker has coerced Mr. Freeze, Two Face, Mad Hatter, and Scarecrow to cooperate in a massive crime wave.
Part of their plan is to take out the Dark Knight, Batman.
To get him, they need bait.
And what better bait for a bat than a bird?
Robin!
Getting his partner back will call for every trick on Batman's belt, including throwing stars, Batarangs, and bolos.
Look for the fastest, most frenzied fighting ever on Game Gear, plus awesome flying levels on the Batwing.
Fans of the animated TV series will find the small-screen version of their heroes just as exciting as the cartoon with one big difference—you can take these heroes with you.
2017-07-10 The Adventures Of Batman & Robin game added.

X
Next game: